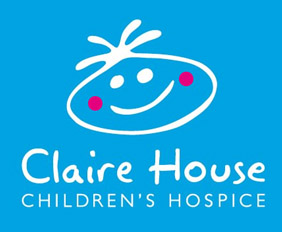 We are proud to announce that the Claire House Hospice is our chosen charity for 2017 for the second year running!
Claire House Children's Hospice offers care, support and choice to families whose children won't live to be adults. Whilst the hospice building is located on the Wirral, Claire House aims to offer the very best care wherever and whenever a child and family needs it, whether they choose to come to the hospice or are looked after at home with our Hospice to Home Team.
Help us raise vital funds to support the charity and make a difference during 2017.
A general introduction…
Claire House Children's Hospice makes a huge difference to local children and their families who are going through the toughest of times. Claire House provides terminally ill children in our community with the care, support and comfort wherever and whenever they need it most. For families, Claire House will be there through their journey no matter how long or short and ensures that the journey is full of happy memories and treasured moments.
Helping children, babies and young adults with remarkable respite care, therapy, hospice to home support as well as lots of fun, Claire House would not exist without the support of the local community.

Family Story…
We help parents create wonderful experiences for their children. We help to bring back a sense of normality to family's life. Families like Erin's.
Erin was diagnosed with severe cerebal palsy at five weeks old. Erin needs round-the-clock care are is prone to seizures and painful spasms.
Mum Wendy said, "I longed to take her to a mum and tot's group, but it seemed impossible. Thankfully, Claire House came to the rescue. For the first time, we were able to do the things other children her age do such as listening to story time, singing, and playing with coloured sand and spaghetti." says Wendy.
For lots of our parents, taking their children to a mums and tots group can be difficult as other children are hitting milestones which their child may never reach. So by coming to our groups, parents and children can relax in their class and can chat to each other about all sorts of things relevant to their child with complex needs….like where is a good day out or even recommend a good place to holiday if you have a big wheelchair or lots of medical equipment.