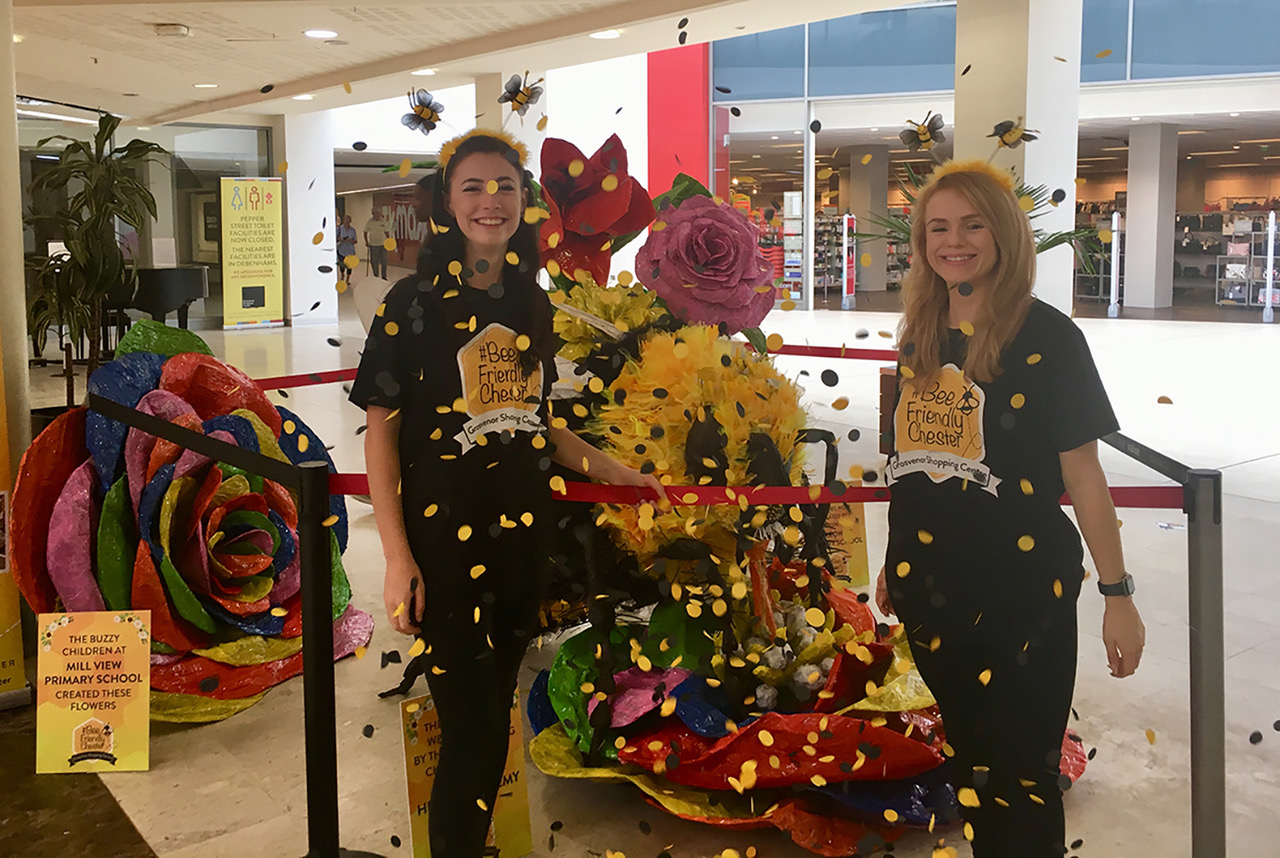 To mark the launch of Chester Grosvenor Shopping centre's #BEEfriendlyCHESTER campaign, a giant queen bee landed in the centre this Saturday (27thJuly)!
To help raise local awareness of the plight of the humble honeybee, Grosvenor's Queen Bee landed and free flower seed confetti was handed out to shoppers.
The shopping centre aims to make Chester the most bee-friendly City in the UK by encouraging shoppers, businesses and residents to sign up to the #beethechange pledge at www.thegrosvenorcentre.co.uk/whats-on/bee-the-change/
The #BEEfriendlyCHESTER campaign launched 27thJuly with a series of family-friendly events to educate shoppers and city visitors on the country's worrying decline in wild bees. The centre promises to be a hive of activity throughout the summer holidays, with bee-friendly activities every day until 1stSeptember.
Shoppers are invited to take part in live hive workshops; scuttlebee kids play zone, honeycomb ball pit, bee-friendly reading zone and local beekeepers education demonstrations to learn about the bees and their remarkable contribution to our environment. 
A specially commissioned giant 6ft bee sculpture by local artist, Faith Bebbington, is also located in the heart of the shopping centre and surrounded by flowers created by local schools Boughton Heath Academy and Barrow Primary and Mill View Primary schools. 
Julie Webb, Grosvenor Shopping Centre manager, said of the planned event "Our Grosvenor Queen Bee is creating a real buzz helping raise awareness of the worrying decline in the UK's wild bee population. She will be here all summer and we hope our bee-themed activities planned throughout the summer will be equally fun and educational for visitors to the centre."
Visit www.thegrosvenorcentre.co.uk/whats-on/ for more information and to find out easy ways to support bees, from what plants, to creating your own garden hive. Plus sign the pledge to agree to "bee-friendly" with a chance to win some amazing prizes.