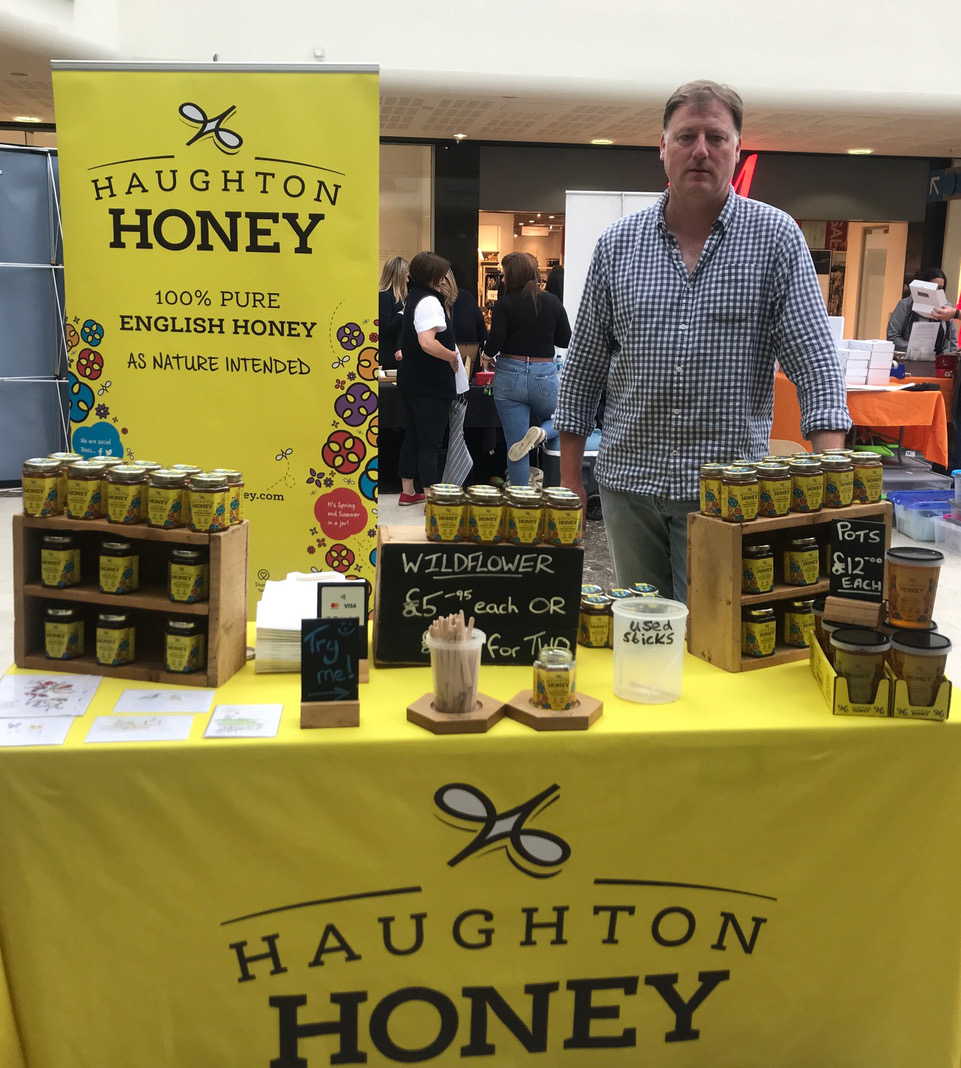 Chester's Grosvenor Shopping Centre is welcoming local Cheshire honey producers, Haughton Honey, to its #BEEfriendlyCHESTER initiative to help relieve local residents' hay fever!
Launched on Saturday 27th July the #BEEfriendlyCHESTER in-centre interactive event is educating shoppers of all ages on the environmental importance of the humble honeybee and also the health benefits of honey.
Raw local honey is a natural alternative to anti-histamines and nasal spray, it is believed that consuming honey with local flora can help ease symptoms. Haughton Honey will be sharing their honey facts and selling their raw honey throughout August, alongside local beekeeping enthusiasts who will be sharing new-friendly hints and tips (on specific dates).
Hay fever is affecting more people each year as we develop greater intolerance to pollen. Sneezing, sore throat and itchy eyes are only a few of the symptoms hay fever can produce, making the summer months almost unbearable for those who suffer badly with allergies.  
A Haughton Honey spokesperson explains the idea behind this growing alternative, "The main principle behind honey's benefit is desensitisation through eating the pollen. We ensure our honey is 'coarse filtered' to leave all of that vital wind-born pollen intact".
"We recommend our honey as it multi-floral meaning it contains a comprehensive mix of pollens that you may be sensitive to." 
Haughton Honey's raw English wild flower honey comes from the meadows, gardens, trees and farmlands across the countryside. Visit the Grosvenor Shopping Centre this summer to get your hands on pure honey straight from the hive.
The shopping centre is encouraging local city residents to help make the Chester the most bee-friendly in Britain. Visit www.thegrosvenorcentre.co.uk/whats-on/ for more information and to find out easy ways to support bees, from what plants, to creating your own garden hive. Plus sign the pledge to agree to "bee friendly" with a chance to win some amazing prizes.
When to see Haughton Honey at The Grosvenor Shopping Centre in August: 
Wednesday 14th, Thursday 15th, Wednesday 21st, Thursday 22nd, Friday 23rd, Tuesday 27thand Wednesday 28th.